LPN, PIDP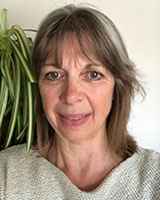 Instructor, Health Care Assistant, Coordinator, Instructor
Sunshine Coast Campus
Faculty of Education
Health & Human Development
Health Care Assistant Program

604.986.1911 ext. 5933
Cedar Building, room CE375/SE106E
karenmcginnis@capilanou.ca
Education
PIDP Vancouver Community College (2019)

LPN Refresher Open Learning Agency, BC (2002)

Licensed Practical Nurse Alberta College (1984)
"HCAs are the eyes and ears that provide the hands-on care for our vulnerable population."
Bio
Karen McGinnis (LPN, Northern Lights College, 1984), is an experienced nurse who has worked in many fields of nursing over the years.

After graduating from the LPN program in Northern Alberta, McGinnis worked in many different areas of nursing. These include acute care, residential, and home and community settings. McGinnis moved to BC and while awaiting her BC license worked as an HCA in Home Care. Over the years, McGinnis found her niche working with people at the end of life stage in palliative care.

Since joining Capilano University in 2014, McGinnis' passion has been to bring real life experiences to the classroom, while remaining current in her nursing practice. She received her Provincial Instructors Diploma from VCC in 2019. She has continued to be heavily focused on education in nursing while participating in the many varied workshops over the years.

In her capacity as a Home Care Supervisor for health care workers, McGinnis provides leadership and guidance to those just entering the field and to those who have been caring for the vulnerable for years.

McGinnis has been chosen to assist in development of the program for assessing internationally educated health practitioners at NCAS. (Nursing Community Assessment Services). She also takes pride in the program offered by Capilano University to graduate students while following the BC HCA Provincial Curriculum and meeting the standards set by the BC Care Aide Registry.
I value the real-life experiences I can bring into my classes. I have a clear vision of the role of the HCA in todays health care field and keep current with the ever-changing role of the HCA. My passion for my profession makes teaching easier and more effective.

I enjoy working with the students, guiding them in making observations, selecting and performing interventions, reaching conclusions, and evaluating outcomes. Watching the pride that occurs with our students at the end of program is a huge reward as an instructor.

Being a nurse in the health care field for over 30 years has taught me about the important and valuable role Health Care Assistants bring into the mix.