BA (Hons), MA, PhD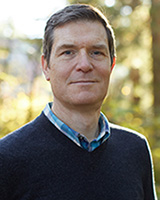 Acting Dean
Faculty of Arts and Sciences
School of Humanities
School of STEM

604.986.1911 ext. 2238
Fir Building, room FR413
gcook@capilanou.ca
Education
PhD, Sociology, University of Toronto, 2005.
MA, Sociology, New School for Social Research, 1997.
BA (Honours), Sociology, University of British Columbia, 1993.
Bio
Graham Cook (PhD, University of Toronto, 2005) is a sociologist whose research looks at the way journalists do their jobs, and how their work is shaped by social factors like gender, class and race.
He also has a broad interest in issues of social inequality, political sociology, and culture and social change, and has taught courses dealing with issues ranging from the sociology of climate change to the causes and consequences of Indigenous Residential Schools.
Cook has taught at the University of Toronto, UBC, and the University of the Fraser Valley, and has been teaching at Capilano University since 2002. He has created several new upper-level courses in sociology at Capilano University, originally for the Liberal Studies degree, as well as a First-Year Seminars class.
Teaching sociology and criminology is an amazing opportunity to connect with students in the real world they live in every day. These disciplines look at the way that our lives are shaped by unwritten social rules that govern our behavior, rules that sometimes appear impossible to break.
They look at the way that groups and individuals struggle for power in society, and why some of those struggles succeed and others dont. Courses in sociology and criminology give students the tools to look behind our common-sense understanding of everyday life, and to push for positive changes to improve our social world.
I have conducted two studies of radio programs at the Canadian Broadcasting Corporation, looking at how journalists do their jobs and why they choose certain stories, guests, and narratives to cover. I connect this to factors like professional norms, gender roles, racialization, technology, and economic and political ideology.
I am currently looking at the changes in journalism created by the rise of social media and other digital technologies and the collapse of traditional newspapers. I am interested in whether a true public sphere, a space of open, rational debate about issues of common concern, can be created in this new environment, and how public media organizations like the CBC might play a role in this sphere.