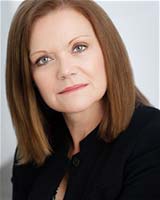 Instructor, Theatre
School of Performing Arts
School of Performing Arts - Theatre

604.986.1911 ext. 3545
Arbutus Building, room AR106
gbarber@capilanou.ca
Education
Associateship (UK Bachelors), Guildhall School of Music and Drama (AGSM), London, UK, 1978.
"Follow your bliss and just tell the story."
Bio
Gillian Barber has been acting and directing in Canada for over 30 years. She studied acting at the Guildhall School of Music and Drama, where she received her teaching degree, and at the University of Victoria, where she studied directing.

Her interest in directing for the screen has been inspired by her experience on the other side of the camera. She has directed four short films and is currently writing a film treatment.
Select directing credits include The Drowsy Chaperone (TUTS), Thoroughly Modern Millie, Secret Garden, Lucky Stiff, Les Liaisons Dangereuses, The Boyfriend, Cinderella, Threepenny Opera, A Little Night Music, Hello Dolly!, The Wiz, Children of Eden, Jane Eyre, Nine and Into the Woods at Capilano University.
Assistant director on My Fair Lady at the Arts Club; vocal director and choreographer on Rocky Horror at DSR and the Arts Club Theatre.
Barber has performed in over 50 shows at the Arts Club Theatre, Vancouver Playhouse, National Arts Centre, Manitoba Theatre Centre, Lunchbox, Alberta Theatre Projects and in the UK. She just finished recurring roles on Supernatural, Chesapeake Shores, The Romeo Section, Witches of the East End and Man in the High Castle.
Film credits include Hamlet, Pattersons Wager, 2012, Hot Rod, Status Update, The Vehicle, On the Sixth Day, Double Jeopardy, Kitchen Party, Jumanji and Rainbow War.
TV movie roles on The Christmas Note, Super Volcano, Bang Bang, Youre Dead, Christy, A Storm in Summer, Colour of Courage and In Cold Blood.
Regular guest appearances on TV shows The X-Files, Millenium, Bates Motel, Cedar Cove, Stargate, Outer Limits and Mysterious Ways.
I started my teaching career at Capilano University in 2001. I developed and rolled out the Musical Theatre program in 2004, and assisted with the Acting for Stage and Screen program, which rolled out in 2005.
Best Director, Nomination, The Drowsy Chaperone, Theatre Under the Stars, Ovation Awards, 2018.
Best Production, The Drowsy Chaperone, Theatre Under the Stars, Ovation Awards, 2018.
Best Series, Nomination, In Cold Blood, Emmy Awards, 1997.
Best Short Film, Nomination, Rainbow War, Oscar Awards, 1986.
Nomination, Best Large Company Show, Best Actress, Marlene in Top Girls at Tamahnous Theatre, Jessie Awards, 1984.