BA, MA, PhD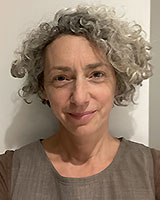 Instructor, English
School of Humanities - English
Faculty of Arts and Sciences

604.984.4957 ext. 4957
Fir Building, room FR404
erikabehrisch@capilanou.ca
Education
PhD, English Literature, Queen's University, 2002.
MA, English Literature, Queen's University, 1997.
BA, English Literature, University of British Columbia, 1996.
University Transfer, Capilano College, 1992.
"Critical thinking and clear writing are life skills that extend way beyond the classroom."
Bio
Erika Behrisch (PhD, Queen's University, 2002) is an archival researcher, literary scholar and creative writer of 19th-century British culture and its preoccupations with science, exploration, imperialism, class, gender and race.
Her doctoral work analysed the extraordinary efforts of British polar explorers to erase Indigenous knowledge from the official record, even as they relied on that knowledge for their very survival. She brings private letters, unpublished journals, government reports and published narratives together to expose the inconsistencies of 19th-century exploration's historical record, and to provide a venue for voices that have not yet been heard.
Behrisch's work has appeared in a variety of journals, from English Studies in Canada to Journeys: The International Journal of Travel Writing, and she has published two books. Her 2009 scholarly edition, As affecting the fate of my absent husband (McGill-Queen's UP) considered the contribution of Lady Franklin and her writing to the historical mythology of the lost Franklin Expedition, and her 2018 novel, Lady Franklin of Russell Square (Stonehouse Publishing), imagines Lady Franklin's life amid the grime of 1840s London and the uncertainty of her husband's fate. Lady Franklin of Russell Square was shortlisted for the 2019 Book Publishers Association of Alberta's Fiction of the Year prize, and was named one of Canadian Geographic's favourite books of 2018.
Her current project, funded by the Social Sciences and Humanities Research Council of Canada, considers the complex role of the 19th-century naval surgeon, a tangential member of every expedition who had no authority but who was responsible for the life of everyone aboard. Her favourite part of this project is reading each surgeon's Sick Book, an unedited account of daily life at sea.
Behrisch divides her time between Kingston, Ontario, the traditional territory of the Wendat, Haudenosaunee and Anishinaabe peoples, where she works at the Royal Military College, and the unceded Musqueam, Squamish and Tsleil-Waututh territories of Vancouver, where she teaches in the English department at Capilano University, her favourite alma mater.
In my classroom—in-person or online—I prioritize four things:
FORM=CONTENT
"Il n'y a pas de hors-texte" (Jacques Derrida)
The text is not the author
"The truth about stories is that's all we are" (Thomas King)
These statements declare that everything we encounter is open to interpretation, and they underscore the importance of looking at texts simultaneously as objects, products, responses, formulae and pieces of a great big cultural puzzle.
I teach 19th-century literature and culture, science and culture, and archival studies, but I especially love teaching junior courses in critical reading and university writing; both are life skills that students will take with them no matter what path they choose.