BA, MA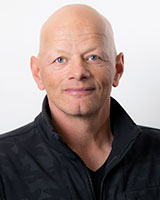 Instructor, EAP
Faculty of Education
Health & Human Development
School of Access & Academic Preparation

604.986.1911 ext. 3010
Birch Building, room BR369
dougjohnstone@capilanou.ca
Education
MA, Teaching English as a Second Language, The American University in Cairo, 1995.
BA, Linguistics/Cross-cultural Studies, Trinity Western University, 1991.
"Anyone can learn anything if given enough time, encouragement and help."
Bio
Doug Johnstone (MA, The American University in Cairo, 1995) has been teaching at Capilano University for over 25 years.
His interest in other languages and cultures began when he was a Canadian soldier with the United Nations. He has travelled to many countries, seen many cultures, and heard and practiced many languages. He speaks Arabic and Spanish.
Johnstone's curiosity and openness to other cultures helps him to love his job and his students. When he isn't at the University, he is usually playing tennis or hiking in the mountains surrounding North Vancouver.
I have always been curious about other people, especially those different than me. I first discovered the "curiosity of the other" while a teenager and a solider in the middle of the Arab-Israeli war.
The differences I saw were the beginning of intentionally pursuing the exploration and understanding of the other. From then until now, I have tried to see and hear the other. I have never been disappointed.
Humans have always tried to create, understand and express culture, language, mythology and spirituality. I continue that process.
United Nations Peacekeeping Forces, Nobel Peace Prize, 1988.