BA, M.Sc.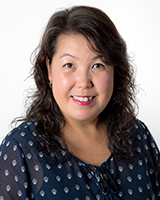 Instructor


604.986.1911 ext. 2216
Cedar Building, room CE352
cdalmeid@capilanou.ca
Education
M.Sc., Tourism Marketing, Department of Management Studies, University of Surrey, England, UK, 1995.
BA, Travel Services Management, University of Macau, 1993.
Industry Certificates
SABRE, Global Distribution Systems Fares & Ticketing, 2006.

SUPERHOST, Foundations of Service Quality, 2006.
ABACUS, Airline Reservation System Fares & Ticketing, 1996.
International Air Transport Association (IATA) Passenger Fares & Ticketing, 1993.
Bio
Claudia d'Almeida (M.Sc., University of Surrey, England, UK, 1995) has been a Tourism Management instructor at Capilano University since 2000, mainly teaching international students in the Tourism Management Diploma program. When the Tourism Management Diploma for international students (TMI) started in 1998, she was assigned the responsibility of re-designing the program profile of TMI. She created and is still teaching three of the four courses, namely: TOUR201 Tourism & Technology, TOUR200 Revenue Management, TOUR135 Hospitality Management and TOUR202 Strategic Marketing. These courses added a management cluster to the curriculum and were deemed more aligned with the learning interests and employable skills of TMIs international students whether they returned to their home countries or stayed in Canada.
d'Almeida was also involved in student recruitment for the TMI program until mid-2018. She understood international students and international education systems since she was also an Admissions Officer with the University of Macau and with the Macau Instituto de Formao Turstica before immigrating to Canada.
Before her relocation to Canada in 1999, d'Almeida was a Travel Services Management instructor at the Instituto de Formao Turstica as well as a Marketing Manager for a Tourism Conglomerate in Macau.
d'Almeida has been teaching full-time in Capilano University's School of Tourism Management. She also delivers professional certification courses like SABRE Airline GDS training, American Hotel & Lodging Association (AHLA) Front Office Management and Hospitality Technology Management as well as various Canada's go2HR Emerit training courses.
As an instructor of Tourism & Technology, I always follow smart innovations and technology trends in air and land transportation, accommodations and attractions. I am most interested in product innovations used to enhance tourist experiences and operation efficiencies.
I spend a lot of time following news of biometrics for single-token travel, artificial intelligence, augmented reality, mixed-reality and robotics so that I can share this information with my students. I love to see the eyes of my students widen in awe when I show them how these technologies are already in use and what the future of travel might hold. Likewise, my students love to share researches and experiences in order to add examples to my notes for future students.