BA (Hons), B.Ed., MA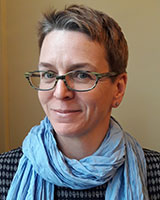 Instructor/Supervisor LRC
School of Humanities
Faculty of Arts and Sciences
School of Humanities - French

604.986.1911 ext. 2405
Fir Building, room FR422
cgloor@capilanou.ca
Education
B.Ed., Secondary French, University of British Columbia, 2002.
MA, French Literature, McMaster University, 1994.
BA (Honours), French Literature, Universit Concordia, 1992.
"In my class, students are quickly given the opportunity to speak French, imperfections and all, and become comfortable and taking chances while learning their new language."
Bio
Catherine Hlne Gloor (MA, McMaster University, 1994) grew up in Montreal and studied French literature at the Universit de Concordia and McMaster University. After moving to Vancouver and completing her PhD coursework at the University of British Columbia, she found herself drawn to teaching and enrolled in the Bachelor of Education department. She has experience teaching French at not only the university and college level but also in middle school and secondary classrooms. Her diverse background with students at all levels has fueled a passion for language acquisition pedagogy and best teaching practices.
Gloor came to Capilano University in 2006 and is the current Coordinator of Languages and Linguistics. She also oversees the Language Resource Centre, a space for students to practice computer mediated language skills and to socialize with other language learners.
When not teaching, Gloor is an active participant in the local francophone cultural community. You can find her cycling around her East Vancouver neighbourhood and tending her chickens. Though whenever possible, she and her family travel to Quebec, France and other francophone environments.
While I have a family background from Switzerland and Quebec, and grew up in the diverse setting of Montreal, I was monolingual and struggled to learn English well into my undergraduate years. This fueled a passion for language acquisition, and how to make this a pleasurable and rewarding experience.
My classroom reflects the natural and communicative approaches where students learn a second or third language much the same way they learned their mother tongue through exposure to the spoken word, the rapid and uninhibited use of basic language, and immersion in everyday cultural experiences and practices. All my classes use cultural examples from across the francophonie to bring this beautiful language alive.
During my graduate studies, I explored gender and sexuality, especially representations of androgyny, in 19th Century French literature, including the works of Gautier, Balzac and Rachilde.
Today my interests are mainly in the applied realm of language acquisition pedagogy and the research of teaching and learning.