BHK, M.Sc.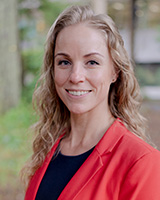 Instructor, Kinesiology
School of Kinesiology

604.986.1911 ext. 2488
Fir Building, room FR515A
careysimpson@capilanou.ca
Education
M.Sc. (Kinetics), School of Health and Exercise Science, University of British Columbia, 2015.

BHK, School of Health and Exercise Science, University of British Columbia, 2013.
"My goal as an instructor is now, and always will be, to encourage student success in whatever way a student perceives that success to be."
Bio
Carey Simpson received her Master of Science (Kinetics) from the University of British Columbia in 2015. During her time as a student, Simpson researched a number of neuromuscular topics including Post Activation Potentiation in relation to warmup and muscle and tendon mechanics in response to perturbation and sport-related forces. Her main research area concerned muscle and tendon adaptation to chronic stretch training and the resultant biomechanical and force characteristic alterations.

Prior to completion of her undergraduate and graduate degrees, Simpson was employed in a variety of positions in the health and fitness industry. She started her career working as a personal trainer, aerobics instructor, cycling coach and yoga instructor, but it was her love of public speaking and knowledge translation that led her to pursue an opportunity to work as an on-board fitness instructor with Carnival Cruise Lines and Royal Caribbean International. Simpson returned from the seas to open a land-based mobile personal training company before pursuing university to complete her education in human kinetics.

Simpson is a member of the Research Ethics Board at Capilano University and a strong contributor to the research culture on campus. She continues to publish in neuromuscular physiology as well as consult with and contribute to external research organizations.