BFA, M.Ed.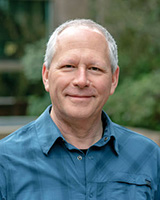 Instructor, Jazz Studies
School of Performing Arts

604.986.1911 ext. 2355
Fir Building, room FR201J
bcoon@capilanou.ca
Education
M.Ed. (Arts Education), Simon Fraser University, 2012.
BFA, Jazz Studies, Concordia University, 1988.
"Community, communication and having a strong command of the curriculum are key components to creating a healthy learning environment."
Bio
Bill Coon (M.Ed., Simon Fraser University, 2012) is a Juno nominated artist, one of Canada's most highly respected musicians and the winner of the 2009 National Jazz Award for Guitarist of the Year.
Performing professionally for over thirty years, he has played with many significant jazz artists including Jimmy Heath, Peter Bernstein, Eddie Daniels, Dr. Lonnie Smith, Bucky Pizzarelli, Sheila Jordan, Hugh Fraser, P.J. Perry, Ian McDougall, Phil Dwyer, Dave Restivo, Carol Welsman, Dee Daniels and Rebecca Kilgore.
As well as being a proud member of the Capilano University Jazz faculty for almost two decades, Coon is an adjudicator and clinician at music festivals and seminars throughout Canada, including the VSO School of Music's Summer Jazz Workshop and the BC Swing Workshop in Sorrento, BC.

Departure, BC Double Quartet (Cellar Live 2018) is a collection of original music featuring Brad Turner that melds a string quartet with a jazz quartet. Other recording highlights include, Arrival with Jennifer Scott and Rene Worst, Explosion with Cory Weeds, Joe Magnerelli, Steve Davis and Gary Smulyan. With Benefits with Lewis Nash and Peter Washington, Two Much More! with Oliver Gannon, Jill Townsend Jazz Orchestras Legacy, The Music of Ross Taggart, and Sweet Stillness a collaboration with LA based singer-songwriter Kristina Olsen.
As well as for his own groups, Coon is busy performing with and composing for Brasiliera with Jennifer Scott and Rene Worst, Triology, with Miles Black and Jodi Proznick, Sienna Dahlen, Laura Crema, Campbell Ryga, Tony Wilson, Kate Hammett-Vaughan, Steve Maddock, Michael Creber, Mike Allen, Kevin Elaschuk, Roy Styffe, and the Minemoto/Coon/Danderfer Trio.
An in-demand composer-arranger, Coon has recently written arrangements for orchestra and voice for Eleanor McCain's True North: The Canadian Songbook. He has written arrangements for Cory Weed's recent album Explosion, and has been commissioned to write for The National Arts Centre Orchestra, the Norwegian Radio Orchestra, the Vancouver Symphony Orchestra, The CBC Radio Orchestra, John Korsrud's Hard Rubber Orchestra, Denzal Sinclaire's Juno nominated, I Found Love, and K-os Juno winning Joyful Rebellion.
I like to create a safe, respectful learning environment, where students are engaged and open to receiving knowledge. There are times when I like to be more of a guide than a teacher. Other times the approach calls for more specific instruction. In either case, the student needs fair and honest feedback because communication is essential to gaining trust and allowing real learning to happen.
Learning music from real world experience allows me to share my knowledge and gives me insight into what challenges my students may be facing. Having studied Arts Education, I understand that there are many ways of seeing, and so a plurality of approaches and different ways of explaining a concept are often needed to reach all students.