BA (Hons), MA, PhD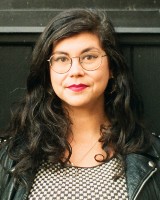 English Instructor
School of Humanities
School of Humanities - English
Faculty of Arts and Sciences

604.986.1911 ext. 3031
Fir Building, room FR404
adelebarclay@capilanou.ca
Education
PhD, English, University of Victoria, 2016.
MA, English, McGill University, 2011.
BA (Honours), English, Queen's University, 2009.
Bio
Adèle Barclay (PhD, University of Victoria, 2016) is a writer, editor, scholar and instructor who currently resides on the unceded territories of the Musqueam, Squamish and Tsleil-Waututh Nations. Her research interests include modern and contemporary poetry, ecopoetics, film and literature, trauma-informed narratives, queer forms and genres, and speculative fiction. Their writing and research have won honours from the Canada Council for the Arts, the BC Arts Council, the Social Sciences and Humanities Research Council, Summer Literary Seminars, and the Banff Centre.
She holds a BA (Honours) in English from Queen's University and a Masters in English from McGill University. For their PhD in English from the University of Victoria, she researched twentieth-century poetry, film and queer femininities. They have previously taught at the University of British Columbia and the University of Victoria as well as led workshops, panels and talks at art galleries, libraries, festivals and conferences, reflecting her long history of working with academic and literary communities.
They have published poetry and nonfiction in North American journals and anthologies, including The Fiddlehead, The Walrus, The Tyee, The Malahat Review, glitterMOB, The Puritan, PRISM, Cosmonauts Avenue, The Heavy Feather Review and elsewhere. She is the recipient of the 2016 Lit POP Award for Poetry and The Walrus' 2016 Readers' Choice Award for Poetry and has been nominated for a Pushcart Prize. Their debut poetry collection, If I Were in a Cage I'd Reach Out for You, (Nightwood, 2016) won the 2017 Dorothy Livesay Poetry Prize. Her second collection of poetry, Renaissance Normcore, was published by Nightwood Editions in October 2019 and was nominated for the Pat Lowther Memorial Award and the ReLit Award and placed third for the 2020 Fred Cogswell Award for Poetry Excellence.
They were the Interviews Editor at The Rusty Toque, a poetry ambassador for Vancouver's Poet Laureate Rachel Rose, the 2016-18 Critic-in-Residence for Canadian Women In Literary Arts, the cohost and cofounder of Tonic Reading Series, Arc Magazine's 2018-19 Poet in Residence, and the 2020 Writer in Residence at the University of the Fraser Valley. She is an editor of poetry chapbooks by emerging writers at Rahila's Ghost Press.
I am a socially-minded artist and academic who believes in creating space for students to explore creative and critical thinking, reading and writing. My teaching specialties include modern and contemporary poetry; academic writing and research in the social sciences and humanities; creative writing, including poetry, creative nonfiction, fiction and screenwriting; media and literature; gender and sexualities; and social justice movements and literature.
My goal as an instructor is to illuminate the tacit rules that govern writing in a range of professional, academic, creative and journalistic contexts.
When I teach, I emphasize dialogue and learning through doing and empower my students to cultivate their own voices.
Modern and contemporary North American literature
Eco-criticism
Gender and sexualities
Trauma-informed narratives
Speculative Fiction
Film and literature
Queer forms and genres