BA, MFA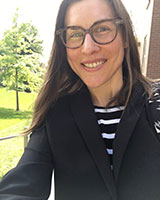 Instructor, Screenwriting
School of Motion Picture Arts

604.986.1911 ext. 7137
Bosa Building, room BC243
abigailkinch@capilanou.ca
Education
Certificate, Film Residency Program, Canadian Film Centre, 2004.

MFA, Creative Writing Program, University of British Columbia, 2002.

BA, Creative Writing Program and Women's Studies, University of British Columbia, 1997.
"I invite you to explore with me the answers to the questions: What makes a good story? How do I tell it well?"
Bio
Abigail Kinch (MFA, British Columbia, 2002) is a Vancouver-based writer and story editor for television, film and radio. She is a member of the Writers Guild of Canada and represented by Jennifer Hollyer of the Jennifer Hollyer Agency.

After completing her MFA in Creative Writing at the University of British Columbia with a thesis in Screenplay, Kinch was one of eight screenwriters selected to attended the Canadian Film Centre's highly-competitive Film Residency Program in Toronto, Ontario. Upon completion of the program, her short film script "Frozen Territory" was selected for production as part of the Canadian Film Centre's Short Film Program. She was awarded a CTV Fellowship to attend the Banff Film and Television Festival, and was immediately hired into the story department of the one-hour drama, Godiva's.

Kinch's writing career includes being a staff writer and story editor on the television dramas The Guard (Global Television/Brightlight Pictures), Whistler (CTV), and Godiva's (CityTV). She has also written for CBC radio, including the dramas Afghanada and Swimming to China, and the radio short Goldfish. As a story editor and consultant, Kinch has contributed her expertise to a number of feature length and short film scripts. She has been nominated for two Leo Awards.

Kinch joined the Faculty of the Motion Picture Arts Program in 2015 where she teaches Screenwriting, and in 2017 Kinch wrote and directed the short film Breathing Room.
Nothing taught me to write quite like being tossed into the deep end of a prime time television series and being expected to swim. Don't worry, I don't take this exact approach to my teaching. But I do emphasize the importance of practice. Of simply doing. I will give you the concepts, the guidance and the support you need, but until you put the concepts into practice on a regular basis you will never truly master them.

With this in mind, I love engaging students in creative exercises that demonstrate this value of practice while simultaneously supporting the development of a deep, long-lasting command of the craft of screenplay. In my class, there are many opportunities to write!