BA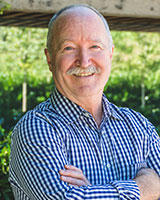 Instructor, IDEA School of Design
IDEA School of Design

604.986.1911 ext. 7223
Arbutus Building, room AR206
jcotter@capilanou.ca
Education
BA, University of Toronto, 1973.
"I take inspiration from these words of Chinese philosopher Lao Tzu: "I have just three things to teach: simplicity, patience, compassion. These three are your greatest treasures.""
Bio
James Patrick Cotter (BA, University of Toronto, 1973) had close to a dozen jobs (including longshoreman, logger and singing bilingual balloon deliveryman) before getting his first writing job and eventually launching a freelance career. That led to his first teaching gig 15 years later in Simon Fraser University's Continuing Education program.
Ten years after that, he started teaching in Capilano University's IDEA Program. Cotter has rarely met a story he didn't like. Over the past four decades he has made it his business to tell stories for fun and profit in many forms and media, from ad copy to plays, websites to speeches, and video scripts to briefing notes and poetry. Constant practice of the craft has taught him that experience is the only real teacher, and that writing is rewriting.
Experiences that have complemented his formal education include hitchhiking tens of thousands of miles in 25+ countries, reading nearly everything that comes into his field of vision, winning gold medals in national championships, raising a family, and once sleeping in a nun's bed. Ask him about that when you meet him. And why he goes by Patrick.
I see life as one grand story broken down into countless smaller stories, with countless ways of, and reasons for telling them.
Stories let us communicate on many levels and practicing storytelling in many media and formats lets us connect to many different audiences. Teaching is also a form of storytelling in which the teacher shares what he/she/they have learned or understand in a way that students can apply to their own experience and needs.
In teaching, I try to keep in mind what Aristotle said about learning: "For the things we have to learn before we can do them, we learn by doing them."