For over 50 years the North Shore and its surrounding communities have provided extraordinary support to Capilano University.
Featured Donors
Through Securities Giving, Finding Meaning in Philanthropy
Building a legacy looks different for everyone who sets out to construct one.
For Bob McGill, the power of family ties, community involvement and education carved a path to generosity that inspires and makes a difference in the lives of Capilano University (CapU) students.
Some 52 years ago, Bob moved from Ontario to B.C., having established himself in the financial services industry in southern Ontario. But the west coast beckoned.
"I thought, 'What do I want, quality of life or more money?' And I knew the quality of life was much better here," said the West Vancouver resident.
At that time, his father was fundraising for a new sports and recreation centre for the then-named Capilano College. Soon, Bob's brother moved to B.C. and began his studies there.
Years later, Bob's son Robert would go on to study Studio Arts at Capilano College – an experience that "lit his creativity" and propelled him on his career in architecture, Bob said.
These family experiences piqued his curiosity about making a difference, eventually bringing him to his role as a CapU Foundation board member, donor, and all-around CapU champion.
"We're so lucky to live in a prosperous area, but the [fundraising] challenges that CapU had was that people still thought of it as a 'little college' and didn't recognize the breadth of education it offered.
"Today, as a small university with small classes, which allows for more attention to the individual students, the CapU experience is more enriching than going to a bigger university and being one of 70,000."
After retiring in 2003, Bob was encouraged by Jeri Krogseth, an admired family friend, educator and CapU Foundation Board member, to join the CapU Foundation's Board of Directors.
Since then, the McGill family has made generous contributions to CapU programs in the performing arts, athletics and bursary funds. Bob and Brenda McGill have given to the Learning Commons and the campaign for the new Centre for Childhood Studies, which broke ground in 2022 with the goal of completion in 2024.
Securities gifts: efficient, practical and simple
Bob points to his long-time service on the board, his family's involvement with the university and CapU's strong leadership and financial stewardship as the fuel behind his giving strategies – namely, focusing on securities giving.
"It's been surprising to me, over the last few years, how little people know about the benefits of giving through securities," he said.
Giving through securities donations – shares, bonds, or mutual funds – that have increased in value, is a much more tax-efficient way to give than selling the securities and donating the cash.
Donors selling publicly-traded securities prior to donating to a charity pay taxes on 50 per cent of the capital gains. However, in a gift of securities directly to a charity, the donor pays no tax on the capital gains and receives a donation tax receipt for their full market value.
It's an efficient way to lower the tax bill for any investor, especially one planning to make charitable contributions anyway, he said.
A path to deeper engagement
Over the years, Bob has noticed how giving can help connect donors and their families to a not-for-profit meaningfully.
"People appreciate learning about a foundation or organization when working with them because it's fulfilling .
"And it's a two-way street. The donor is motivated to look more closely at the charity. And the charity is also happy to develop a relationship with the donor."
Our donor stories
2023
Decades ago, when Jeri Krogseth first began her career as an advisor and educational planner at Capilano University, the words "Scholar Athlete" were perceived as mutually exclusive.
Every day, she saw how these unfair beliefs hurt students and every day, her determination to help them grew stronger.
"You were either a good student or you were a 'dumb jock.' Those were the labels that we were fighting against," she recalls.
In her advising role then – and today as a veteran philanthropist – Jeri Krogseth had a compassionate insight into the physical and mental challenge that CapU students took on to excel in their studies while they met the demands of a high-calibre athletics program.
Jeri established the Scholar Athlete Award to reflect the value of her own experience working with student athletes, and her recognition that skills learned on the pitch, field or court transfer seamlessly to academic success. "You must be self-disciplined. When you're on a team, there's camaraderie and support and you are dependent upon the others and they're dependent on you."
This year's female Scholar Athlete Award winner, CapU business major and Blues soccer player Alanah Dulong, says it's discipline fostered through sports that sustains her in every aspect of her life.
Alanah has taught herself to organize her time, using strict monthly and weekly timetables and to-do lists that help her balance work, soccer, and academics.
"The Scholar Athlete Award stands out because it's a tangible reflection of my ability to successfully balance my academic and athletic commitments," she says. This is the fourth year in a row she's been named the Capilano Blues Female Scholar Athlete of the Year.
She's also a four-time Canadian Collegiate Athletic Association National Scholar and three-time Pacific Western Athletic Association soccer conference provincial gold medal winner. In the off-season, she plays with North Vancouver's Altitude FC, a women's semi-professional soccer team.
"Throughout my university experience, I have learned how to manage the external and internal pressures involved with excelling in the classroom and on the field," she says.
The teamwork and cooperation she's learned on the pitch translate directly into the classroom, she adds. "I am constantly tasked with group projects and working with others, and the soft skills I have developed through sports have helped immensely."
Building a team to support CapU athletes
Growing up in Kelowna, Jeri Krogseth was an avid competitive swimmer and badminton player. "I was never an outstanding athlete. But I was encouraged to do my best."
Her mother, a member of the women's basketball team and a graduate from UBC in 1924, was a trailblazer in her own right, and a role model who encouraged her to pursue schooling. After studying at UBC, Jeri taught high school in northern BC and then Coquitlam for 23 years. After moving to West Vancouver in 1983 and commuting for two years, she decided to take on her advising role at Capilano College.
"At the time, the coaches were focused on doing the best they could for their athletes, but there was very little in the way of money for any of them," she recalls.
Along with Joseph Iacobellis (former CapU director of athletics) and David O'Leary (former CapU academic advisor), Jeri spearheaded the creation of the Scholar Athlete and Athletic Entrance Endowment Funds that now annually support a number of student athletes.
It was a joint effort.
The athletic scholarship reflects the values Jeri shared with her husband Don, and the strength of their partnership in philanthropy, she says.
Partners in life and philanthropy
After retiring in 1999, Jeri served as a board member of the Capilano University Foundation Board and helped to create Capilano University Alumni Association.
Inspired by the impact of their early giving, Jeri and Don created the Krogseth Foundation to support their philanthropy in 2013.
The Krogseth Foundation has supported the construction of CapU's Centre for Sport and Wellness, the BlueShore Financial Centre for the Performing Arts, the student services hub, the Birch building and a variety of other projects. Additionally, a room in CapU's new Centre for Childhood Studies will be named after Jeri and Don Krogseth in recognition of their gift.
For her decades of service to students and for her and Don's thoughtful generosity, CapU awarded an honorary degree to Jeri in 2016. When she recalls the day she received her honorary degree, her voice cracks with emotion.
"I look back on that, and it brings tears to my eyes. You know, it's not something I ever, ever imagined could happen," she says.
"I'm 84. We are a generation that grew up not having a lot given to us. But we've had the ability and opportunity to achieve a great deal, so I took for granted we would help others."
"Giving back, sharing, and providing opportunities for others is just a part of my life's belief."
Since its launch in 2000 and 1999 respectively, $115,300.00 has been disbursed in 160 student awards through the Scholar Athlete Scholarship and Athletic Entrance Award.
2022
There are many ways to say thank you. For one Sechelt resident, her decision to honour an individual will leave a legacy for students on the Sunshine Coast.
Following a 32-year teaching career with the Delta School District, Mary Lou Owen wasn't ready to sit idly by.
Mary Lou relocated part-time to the Sunshine Coast 21 years ago. As a retirement project, she set an ambitious goal to create a website to reconnect her former classmates from kindergarten to grade 9 at Gorsebrook Junior High School in Halifax, Nova Scotia.
She started taking computer courses through the Adult Basic Education program at the kálax-ay Sunshine Coast Campus of Capilano University.
Learning to create a website did not come easily to Mary Lou, but with her fierce tenacity and the support of dedicated instructor Becky Wayte, she created the Gorsebrook School website.
"Mary Lou works harder than anyone I have ever met," said Becky. "She is the most persistent and dedicated student. I've never seen anybody so committed to learning. I imagine she was an absolutely amazing teacher, especially for students who didn't learn in a typical way or those who needed extra support."
Mary Lou has been ultra-careful during the pandemic. For a long time, Becky was the only person in her bubble. Their weekly visits were rooted in teaching and learning, but the social connection was as important and a friendship quickly developed.
When the COVID-19 pandemic ended in-person classes, the shift to online learning was a challenge. Becky realized Mary Lou needed extra help with her website and offered to meet her weekly for one-on-one tutorials for close to two years.
Mary Lou mentioned she had some shares she wanted to donate to an organization where it could have a lasting impact. Becky suggested donating to Capilano University to be used to help students.
By connecting with CapU's Philanthropy and Alumni Relations team, Mary Lou learned she could donate appreciated securities investment funds – a straightforward and tax-efficient option. Donors receive a tax credit for their financial gift that can be used to offset other taxable income. Also, when donors give securities to a charity, such as the Capilano University Foundation, the capital gains are non-taxable income as well.
"This option provided a huge incentive," said Mary Lou. "I would lose a considerable amount in capital gains tax if I gave a cash donation. For me, a securities donation is the only way to go."
Mary Lou offered a vision for her financial gift with specific criteria. "I don't want the student funding to be a scholarship. I don't want it to go to students who have straight A's. Scholarships are already available to those students," said Mary Lou. "I want it to go to foster children or to students who face barriers to continuing their education, or to students who would not qualify for financial assistance."
As a teacher, Mary Lou had a heart for connecting with students who faced struggles at home, those who had trouble fitting in and students who had learning challenges. She taught a number of students in foster care and devoted attention to supporting their success. Mary Lou wanted to provide financial gifts to students like those she had supported as a teacher.
Her donation proved to be a dual gift. The $40,000 donation to Capilano University will create two funds for students living on the Sunshine Coast: the Mary Lou Owen Educational Fund and the Becky Wayte Educational Fund.
Becky was astounded and delighted to have a fund established in her name in recognition of her instruction and her above-and-beyond support to Mary Lou. "I'm so honoured by this," said Becky. "It is like she gave me $20,000 to give to the university."
Mary Lou's act of gratitude offers a lasting tribute to her friend and leaves a legacy of support for students.
"I wanted to do something for Capilano University and for Becky. She went to high school on the Sunshine Coast and has worked at CapU for over 30 years. This was my way of saying thank you to her and the university," said Mary Lou.
To find out more about how to give through securities, visit our Donating Securities to CapU page.
2020
Christian, a longtime teacher and professor, taught at CapU for 10 years. Teaching in a number of places, such as the Arctic and overseas, Christian highlights his time at CapU.

Alex, also a longtime teacher, taught biology and chemistry in England, and math and science in Alberta; he was a reading specialist here in B.C.

In 2016, Christian established the Christian Steckler Academic Excellence Fund, an endowment fund which supports students at CapU in their English for Academic Purposes studies. Thanks to Christian's endowment, one immigrant student per year will be awarded a scholarship in their program.

Christian and Alex also recently donated "Opening to the Spirits", a sculpture by artist Abraham Anghik Ruben, which depicts an angakkuq – a shaman in Inuit culture – opening himself to a seal tuurngaq (spirit guide) that will assist him in spiritual quests. The sculpture is proudly on display at the new CapU Lonsdale campus.

When asked what inspires them in giving back to CapU, Christian and Alex said, "the spirit at Capilano U of respect, collegiality, pride in excellence, mutual support, and community involvement envelopes everyone here. We want to encourage it, support it, and be part of it. It's the total package."

As proud supporters of CapU, Alex says, "we are blessed with what we have through hard work, and I would like to be able to share our gifts with others, so that they may be enjoyed by many." Christian adds, "The motto of my high school was De nihil, nihil fit - from nothing, nothing comes.

This has grounded me in a firm belief in self-reliance. I am inclined, therefore, to encourage effort and growth in donations that I make, donations to rehab rather than to free meals, to a scholarship rather than a bursary, and in the case of the sculpture, encouragement to seek alignment with our spiritual nature rather than with ego-driven accomplishment."

As true champions of giving, we are incredibly grateful to have generous donors such as Christian and Alex as members of the Capilano University community!
2019
Most people think of eggs as a breakfast food, but to Viktoriya Kim an egg is a blank canvas begging to be adorned. Her passion is to transform ostrich, goose and duck eggs into everything from gilded carriages to ornate teapots using paper prints, acrylic paints, Swarovski stones, beads and different kinds of mediums and bonds.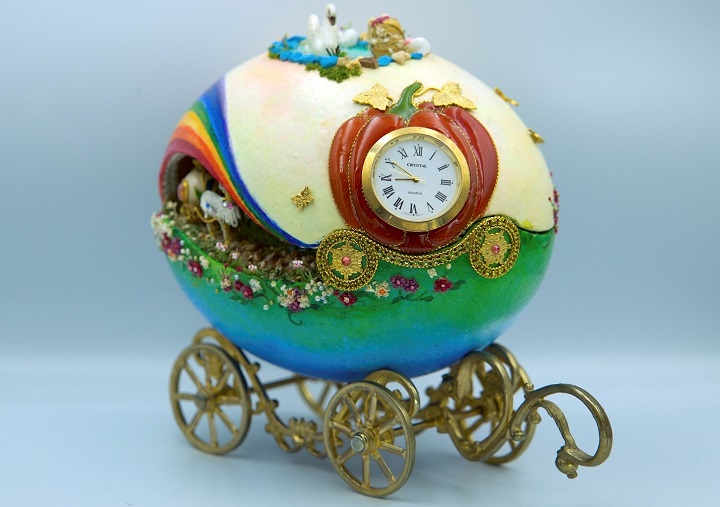 "What I love about making egg art is that whenever you have an idea, or are inspired, you are breathing life into these eggs with those ideas, almost like a rebirth!" says the graduate of CapU's program, who studied egg art under Kim Kyung Ah, the president of the Korean Egg Art Guild.

Kim's unique egg art will be on display at Capilano University on Wednesday, October 9 from 10 a.m. to 6 p.m. in the Birch Building atrium. The Egg with a Story exhibition is a fundraiser for the recently established Rick Berwick Community Spirit Award, which supports students in CapU's (EAP) program who demonstrate community engagement and involvement.


The egg artist first met Dr. Rick Berwick, a highly regarded sociolinguist and instructor at Capilano University, as a student in the University's EAP program. A strong proponent of community engagement in intercultural learning, Berwick was Kim's instructor for a course where students practise their English skills while volunteering in the community.

Kim loved the experience so much that she became a regular volunteer in the morning breakfast program at the Collingwood Neighbourhood House, cooking and providing homeless people with fresh, homemade food.

"It was Rick who introduced me to what volunteerism means," says Kim. "He was an inspiring volunteer and a man with a big, kind selfless heart, who helped many people."

When Berwick passed away on June 3, 2019 his family established an award for EAP students in his name. Kim immediately wanted to contribute through sharing her art. Donations received at the exhibition will go directly to the award.

"I think, through volunteering, all the bright and positive aspects of anyone's personality can be revealed," says Kim. "Volunteering gives people the feeling of diversified growth, and the sense that they are doing something significant for society and those in need."

"For me, the establishment of the Richard Berwick Community Spirit Award is an embodiment of Rick's wish to make this world if not perfect, then at least a little bit better."
2017
A little extra sunshine visited the kálax-ay Sunshine Coast campus of CapU on Thursday, January 19, when the Hopkins Branch of the Sunshine Coast Healthcare Auxiliary presented a generous surprise gift to CapU's Health Care Assistant (HCA) students. Each of the 20 students at the Sechelt campus received $100 toward their studies.
"What an amazing group of people!" said one recipient. "I feel like they are invested in and supportive of us as HCA students." Another said, "We have had a very challenging week and this unexpected gift makes it end on a high note."
Thank you to the Hopkins Branch for their generous support of CapU's HCA students!
2016
2015
Hundreds of CapU students contribute to the CapU experience by volunteering their time to enrich student life for their peers. Now the Capilano Students' Union wants to ensure they are recognized for their efforts. Those dedicated students now have a chance to be recognized through a new award established by the Capilano Students' Union (CSU).
The Capilano Students' Union Engagement Award, supported by an endowed gift of $25,000, will provide annual awards for students with outstanding involvement in campus activities. Whether it is spearheading events for recreation or dedicating time for campus-wide sustainability projects, student volunteers play a major role in building the Cap community for their peers – and will now be recognized for their dedication.
"There are many student volunteers who tirelessly give their time to improving the student experience at CapU," says Zach Renwick, CSU's President and Vice-President of Internal Development. "We hope this award will help encourage more of the student body to get involved."