BA, MFA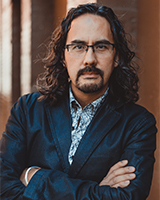 Co-Coordinator, Interaction Design, Instructor, IDEA School of Design
IDEA School of Design

604.990.7820 ext. 7820
Arbutus Building, room AR206
jaidjwa@capilanou.ca
Education
MFA, Electronic Arts, Renssealaer Polytechnic Institute, 1995.
BA, Fine and Performing Arts, Simon Fraser University, 1993.
Bio
Jai (Phillip) Djwa (MFA, Renssealaer Polytechnic Institute, 1995) is a digital media strategist, facilitator and creative director. He is passionate about the opportunities for arts and technology to inform social change.
Starting as an electroacoustic composer for theatre and dance for more than a decade, Djwa is now a creative technologist and interactive strategist with more than 25 years experience in interactive design, digital media and film/TV for First Nations, progressive organisations and social venture companies.
I have been teaching in numerous different situations for many years. Through that time, Ive distilled my approach into five different principles:
Spark creativity and interest
Its key for students to feel interest and excitement in the opportunities.
Invite collaboration
Students should learn collaboration through working together.
Convene in a caring and respectful way
The classroom has to be warm, inviting and caring.
Mentorship is the model
Respecting teaching as mentorship and guidance, rather than as a top-down traditional teaching methodology.
Acknowledge experience
Students come to my class with a variety of experience that should be recognized and celebrated.