BA, B.Ed., MA, PhD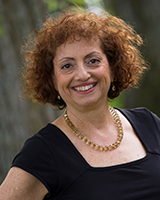 Instructor, Theatre
School of Performing Arts
School of Performing Arts - Theatre
Faculty of Fine and Applied Arts

604.986.1911 ext. 2412
Arbutus Building, room AR106
gbrandes@capilanou.ca
Education
PhD, Education, University of British Columbia, 1994.
Alexander Technique Teaching Certification, Haifa School of the Alexander Technique, Haifa, 1988.
MA, Curriculum and Instruction, Education, Hebrew University, Jerusalem, 1985.
B.Ed., Teaching Certificate, Hebrew University, Jerusalem, 1975.
BA, Hebrew Literature and English Literature, Haifa University, 1975.
"Teaching the Alexander Technique, I focus on awareness, choice and efficiency, as students acquire tools to be present and available for self-discovery as they work on their craft and art."
Bio
Gabriella Minnes Brandes (PhD, University of British Columbia, 1994) is an educator with a specific interest and expertise in the Alexander Technique. She has been teaching the Alexander Technique for over 30 years and is currently teaching in the Theatre Department at Capilano University.
After completing her Masters in Education (1985), Minnes Brandes completed a three-year certified teacher training course in the Alexander Technique. She has maintained an active practice teaching the Alexander Technique with a real interest in working with performers. She has taught at the Pender Island Flute Retreat, Vancouver Opera's Young Artists Program, Pacific Opera, Victoria and Opera Nuova in Edmonton and at Capilano University.
Minnes Brandes works extensively in collaboration with musicians, voice, movement and acting instructors. Much of her current work and research focuses on exploring the connections between the Alexander Technique and creativity as it pertains to performers. Informed by her PhD and research in education, she is also exploring the connections between current educational research and the Alexander Technique teacher training. She has served on national and international committees of Alexander Technique organizations.
Minnes Brandes has also taught high level equestrians and was invited to teach in a summer intensive of Centred Riding (Alberta).