BA, M.Sc. (in progress)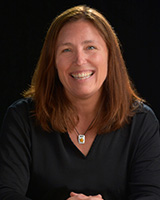 Instructor, Motion Picture Arts Program
School of Motion Picture Arts - Motion Picture Arts Program
School of Motion Picture Arts

604.986.1911 ext. 7142
Bosa Building, room BC248
aklipp@capilanou.ca
Education
M.Sc., Southern New Hampshire University, in progress.
BA, Communications, Santa Clara University, 1992.
"I focus on a practical, hands-on teaching approach in my classroom. Allowing the students to learn and explore the creative and foundational skills required to be successful in post-production."
Bio
Andrea Klipp (BA, Santa Clara University, 1992) has been involved in the motion picture industry for nearly 30 years. As a principal at Big Red Barn Media Group, she oversaw post-production on hundreds of hours of documentary and factual television, along with corporate and government work.
Her work, principally as an editor and post supervisor, saw her deliver award-winning programming to broadcasters in North America and beyond. She also has practical experience as an on-set visual effects compositor, director, producer and business owner.
Klipp started teaching at Capilano University in 2011, becoming a full-time instructor the following year. She continues to enjoy sharing the knowledge she has gained, helping launch the next generation of post-production professionals.
After a long career as an editor, post facility manager and business owner, I am happy to share my experience with the next generation of content creators. I value the hands-on practical nature of the School of Motion Picture Arts program and incorporate that type of learning in my classroom.
I enjoy working closely with students, mentoring them through the editing process. I spent many years in various roles of post-production and enjoy sharing those experiences with students.