B.Mus., BMT, MTA, FAMI, PhD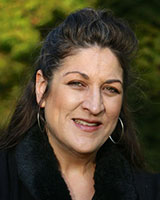 Instructor, Music Therapy
Faculty of Education
Health & Human Development
School of Allied Health - Music Therapy

604.986.1911 ext. 2307
Fir Building, room FR101
sbaines@capilanou.ca
Education
PhD, University of Limerick, 2013.
FAMI, Southeastern Institute for Music-Centered Psychotherapy, 1999.
MA, New York University, 1992.
BMT, Wilfrid Laurier University, 1989.
B.Mus., University of Calgary, 1984.
"I support students to enhance their strengths while finding specific individuated ways to address their concerns."
Bio
Sue Baines (PhD, University of Limerick, 2013) is an Accredited Music Therapist whose research in music therapy as an anti-oppressive practice is founded on her previous work and publications in community music therapy and feminist music therapy. Baines' personal philosophy of social justice has guided her music therapy research, practice and publications.

Born in Toronto, Baines grew up in Calgary and received her Bachelor of Music from the University of Calgary in 1984. She continued for a year in musicology studies there but then moved to Waterloo, Ontario to pursue her music therapy education. She was offered a post-bachelors internship in a specialty hospital in Manhattan, NY and trained there for a year. Subsequently, she initiated her music therapy practice in New York while pursuing her Masters of Arts in music therapy at New York University.
Upon completion of this degree, Baines moved to Toronto for a year and then on to Vancouver where she has lived since 1994. In her desire to deepen her competence using music in psychotherapy, she became a Fellow of the Association for Music and Imagery in 1999. In 2011, she was invited to a research PhD through the University of Limerick, Ireland. She completed this work through distance education while doing her research in Vancouver.

Baines has served on the board for the Music Therapy Association of British Columbia and the Canadian Association of Music Therapists. She has numerous academic publications and is the Editor-in-Chief for the Canadian Journal of Music Therapy. She is on the editorial team of the Arts in Psychotherapy and has been a guest editor for Voices: A World Forum for Music Therapy.

Baines has been teaching in the Music Therapy program at Capilano University since 1997, and has trained numerous music therapy practicum students and interns since 1995. Students appreciate her supportive approach to learning and value her depth of clinical experience with children, teens, adults and older adults.