BFA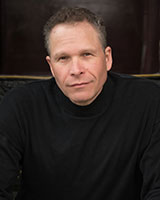 Instructor, Jazz Studies
School of Performing Arts

604.984.4911 ext. 4911
Fir Building, room FR101
smaddock@capilanou.ca
Education
Musicology (Jazz), York University, in progress.
Jazz Studies, Capilano University, 1993.
BFA, Acting, University of Windsor, 1990.*
Music & Drama, Peel School for the Performing Arts, 1987.
*completed 3 years of a 4 year program
Bio
Steve Maddock has built a reputation as being one of Western Canada's most versatile vocal talents over the past two decades. In addition to his extensive body of work as a jazz performer, he's been a soloist with The Vancouver Symphony Orchestra, The Pacific Baroque Orchestra, The CBC Radio Orchestra and The Dal Richards Jazz Orchestra.
He's also been a featured artist on CBC Radio (Tonic, Hot Air, Disc Drive, The Early Edition and Sound Like Canada) and CTV (opening and closing ceremonies of the Vancouver 2010 Winter Olympics).
As an ensemble singer, his credits include The Vancouver Chamber Choir, Chor Leoni Men's Choir, Phoenix Chamber Choir, and his current vocal ensemble, juno-nominated musica intima. He has been on the Jazz Faculty at Capilano University since 1996, and works regularly as a jazz, vocal, and choral adjudicator/clinician.
Maddock studied acting at the University of Windsor in Ontario and remains active as a musical theatre performer. Recent stage credits include High Society (Arts Club Theatre Company), The Fantasticks (Vancouver Playhouse), Jesus Christ Superstar (Stage West Calgary) and Disney's Beauty and The Beast (Arts Club).
Voice Instructor, Capilano University, 1996-present.
Clinician/Adjudicator, numerous music/jazz festivals, 2000-present.
Voice instructor, BC Swing Camp, 2012-present.
Voice Instructor, VSO Summer Jazz Workshop, 2013-present.
Private Voice Instructor, 1996-present.