BA, MEd, PhD (Candidate)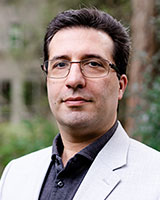 Dean, Faculty of Fine and Applied Arts
Dean's Office - Faculty of Fine & Applied Arts
School of Motion Picture Arts
IDEA School of Design - IDEA Program
School of Animation & Visual Effects
School of Performing Arts

604.990.7941 ext. 7941
Arbutus Building, room AR202
raminshadmehr@capilanou.ca
Education
PhD, Educational Technology and Learning Design, Simon Fraser University, Candidate.
MEd, Imaginative Education and Learning in Depth, Simon Fraser University, 2014.
BA, Interactive Arts and Technology, Simon Fraser University, 2009.
Bio
Ramin Shadmehr (MEd, Simon Fraser University, 2014) is an experienced technology solution developer, technical artist and educator.
With more than 15 years of experience in education, media and technology, Shadmehr has delivered leadership expertise in educational learning and design, interdisciplinary teaching, international education and partnership, work-integrated learning and educational technology.
While fully dedicated to the faculty of fine and applied arts at Capilano University, he also serves as a subject matter expert for the Private Training Institutions Branch of the Ministry of Advanced Education and Skills Training, supporting the review process for degree and credential program applications.
He is also very involved with the community and the industry outside of CapU. He is a co-founder of Techies of Tomorrow. He sits on the Greater Vancouver Board of Trade's SCS Advisory Committee, a lifetime member of the Chair Academy of Leadership Development in Higher Education and the Creative Technology Education Committee (CTEC).
Shadmehr holds a Master of Education in imaginative education from Simon Fraser University, where he is currently a PhD candidate in educational technology and learning design. His research focuses on the effectiveness of virtual reality in job interview training for autistic adults.
Areas of expertise:
Cross-platform application design and development (Cloud-based, AI, web/mobile)
Technical arts (tools development, procedural modelling, dynamics)
3D modelling and animation
Virtual and augmented reality
Digital and online marketing tools
Research & scholarly interests:
Job interview training for autistic adults
Interdisciplinary education
Collaborative learning (COIL)
Project-based learning (PBL)