B.Math (Hons), M.Sc.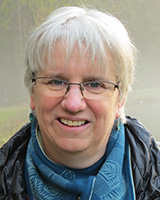 Instructor, Mathematics and Statistics, Convenor Engineering/Inst.Math & Stats
School of STEM
Mathematics & Statistics
Faculty of Arts and Sciences

604.986.1911 ext. 2451
Fir Building, room FR482
llajeune@capilanou.ca
Education
M.Sc., Mathematics, Carleton University, 1996.
B.Math (Honours), Pure Mathematics and Music, University of Waterloo, 1987.
Bio
Lisa Lajeunesse (M.Sc., Carleton University, 1996.) completed a Bachelor of Mathematics with a double major in Pure Mathematics and Music at the University of Waterloo. Afterwards, she worked with Telesat, Canada for several years, as part of the Mission Analysis and Flight Dynamics teams responsible for launch planning and the orbital maintenance of Canada's geostationary communications satellites. During this time, she also taught music privately and pursued creative writing. In 1994, Lajeunesse returned to her formal education studying Mathematics at Carleton University, focusing on a branch of mathematical logic called Model Theory.

Lajeunesse has a passion for learning and teaching applications of mathematics in other disciplines. Since joining the Department of Mathematics and Statistics at Capilano University in 1998, she has pursued this passion by teaching and developing curriculum for interdisciplinary courses, including creating courses that explore the connections between mathematics and the visual arts, music and literature. This area is where she focuses most of her research now.
Lajeunesse served as Engineering Convenor for three years and is currently Chair of the Engineering Steering Committee in the School of STEM. Some of her mathematical poems have appeared in the Bridges 2018 Poetry Anthology.