ARCT, B.Mus., M.Mus., MMA, DMA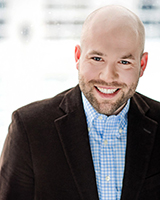 Instructor, Music
Faculty of Fine and Applied Arts
School of Performing Arts
School of Performing Arts - Music

604.986.1911 ext. 2319
Fir Building, room FR201D
kevinzakresky@capilanou.ca
Education
DMA, Yale School of Music, 2012.
MMA, Yale School of Music, 2008.
M.Mus., UBC School of Music, 2006.
B.Mus., UBC School of Music, 2004.
ARCT, Piano Performance, 2002.
"Music is a lifelong endeavour. One never stops learning."
Bio
Kevin Zakresky (DMA, Yale School of Music, 2012) is Director of Choirs at Capilano University and works as a touring orchestral conductor, most recently directing the Zelda Symphony of the Goddesses, National Geographic Symphony and Heroes Symphony, three shows that have seen him conduct orchestras throughout North America, South America and Europe.
Previously Zakresky was Music Director of the Prince George Symphony and conductor of the Pacifica Singers in Vancouver. He received his doctorate in choral conducting from Yale University in 2012 and has been on the voice faculty of the VSO School of Music since 2013.
Good choral singing starts with healthy vocal production. In my classes we focus on the biology of the voice and finding ways to attain a strong choral blend without sacrificing individual technique.
One of the most important parts of working in the professional world is an ability to adapt your musicianship for many different styles. I aim to prepare students for a career of flexibility and a variety of professional situations.