BA (Hons), MA, PhD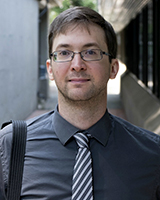 Instructor, Psychology
School of Social Sciences
Psychology
Faculty of Arts and Sciences

604.986.1911 ext. 3551
Fir Building, room FR407
douglasalardstomalin@capilanou.ca
Education
PhD, Psychology, University of Manitoba, 2015.
MA, Psychology, University of Manitoba, 2009.
BA (Honours), Psychology, University of Manitoba, 2005.
"When it comes to statistics, you have to learn to walk BEFORE you can learn to run an ANOVA."
Bio
Douglas (Doug) Alards-Tomalin (PhD, University of Manitoba, 2015) is a cognitive psychologist whose research interests are in the study of perception, attention, sensation and decision-making. The focus of his research to date has been on how people intuitively use cognitive shortcuts when making decisions about the basic elements that compose our world; like how we estimate the passage of time, or approximate distance and sensory magnitude.
After receiving his degrees, Alards-Tomalin held a post-doctoral research position at the University of Manitoba for one year prior to taking on instructor-level positions at the University of Winnipeg teaching Physiological Psychology, and more recently at Capilano University teaching Research Methods in Psychology and Statistical Methods in Psychology.
Alards-Tomalin has published his research in a wide-array of journals including the Journal of Experimental Psychology: Learning, Memory & Cognition, Psychological Research and Journal of Air Transport Management to name a few. He has frequently presented research at the Annual Meeting of the Psychonomic Society and the Annual Meeting of the Canadian Society for Brain, Behaviour and Cognitive Science and has been a longstanding member of both societies.