BA (Hons), PhD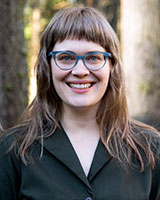 Instructor, Writing Centre Convenor
School of Humanities - Writing Centre
Faculty of Arts and Sciences
School of Humanities
School of Humanities - English

604.986.1911 ext. 2026
Fir Building, room FR404
daragreaves@capilanou.ca
Education
PhD, English and Sexual Diversity Studies, University of Toronto, 2016.
BA (Honours), English, University of Victoria, 2007.
Bio
Dara Greaves (PhD, University of Toronto, 2016) began teaching at Capilano University in 2019. She holds a PhD in English and Sexual Diversity Studies from the University of Toronto. Her SSHRC-funded doctoral research examined late-Victorian discourses of sympathy, gender and sexuality, focusing on forerunners to the feminist movement (such as New Woman writers Mona Caird, Sarah Grand, and Olive Schreiner) and precursors to the modern LGBTQ2IA+ movement (such as Edward Carpenter and his theory of the intermediate sex). Whereas dominant nineteenth-century discourses saw sympathy as an innately feminine feeling relegated to the personal, domestic sphere, her dissertation argues that British New Woman authors reimagined sympathy as queer, gender transcendent, and ultimately socially transformative.
Greaves' scholarly and teaching interests include intersectional feminism, LGBTQ2IA+ rights and decolonization. Illustrative classroom discussions include the racial and gendered discourses of credibility relating to sexual assault, and the ways in which conventional coming-of-age narratives are impacted by late-capitalist precarity. A one-minute Capsule video, where she describes her approach to teaching Carmen Maria Machado's "Real Women Have Bodies", can be found at 60(ish) Seconds with: Dara Greaves. An enthusiastic mentor who values empowering her students through reciprocal learning, Greaves received a CapU 2019–2020 Teaching Excellence Award.
Greaves' commitment to equity and social justice also animates her creative work. She has directed and produced a short narrative film about sexual assault, and she is currently collaborating on a feature-length coming-of-age screenplay. She lives and works on the unceded territories of the Lil'wat, Musqueam, Squamish, Sechelt and Tsleil-Waututh peoples.
Intersectional feminism and the history of feminist movements
LGBTQ2IA+ rights and sexual diversity studies
Contemporary fiction and non-fiction
Critical race theory and BIPOC critical frameworks
Decolonization
Victorian literature and culture
Anti-capitalist frameworks and precarity studies
Affect theory and history of the emotions
Film, media, and popular culture studies
Coming-of-age narratives and Young Adult fiction
Issues of sexual assault and consent