B.Ed., B.Mus., M.Mus.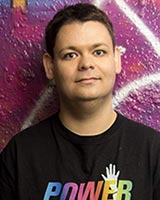 Academic Coordinator, Instructor, Jazz
School of Performing Arts

604.986.1911 ext. 2136
Fir Building, room FR201G
danielhersog@capilanou.ca
Education
M.Mus., New England Conservatory of Music, 2016.
B.Ed., University of British Columbia, 2009.
B.Mus., University of British Columbia, 2007.
"My goal is to foster and grow your love of music and enthusiasm towards your craft."
Bio
Daniel Hersog (M.Mus., New England Conservatory of Music, 2016) is a jazz trumpet player, composer and arranger. He is an important voice on the Canadian and international jazz scene. Hersog is poised to release his first jazz orchestra record in early 2020 on the esteemed Cellar Music label. Featuring his compositions, this record features renowned solosists Frank Carlberg and Noah Preminger.
Hersog has toured North America leading large ensembles featuring such notable musicians as Terry Clarke, Kevin Turcotte, Remy Le Boeuff, Brad Turner, Billy Buss, Stuart Mack, Jason Palmer and Kim Cass. He is often featured at the Vancouver International Jazz Festival as well as performing regularly at Frankie's Jazz Club and Pat's Pub. As a sideman, he performs with The Vancouver Legacy Jazz Orchestra, Jaelem Bhate Jazz Orchestra, Super Trumpets, and Sonny's Cousin.
A graduate of the prestigious New England Conservatory, winner of the acclaimed Gunther Schuller Medal and inductee to the Pi Kappa Lamda honors society, Hersog studied with a veritable who's who of jazz music. This includes composition lessons from John Hollenbeck, Dave Holland, Ken Schaphorst, Frank Carlberg and Rakalam Bob Moses. He has also been fortunate to study trumpet with renowned master teachers John McNeil, Ralph Alessi, and Steve Emery.
Being an instrumentalist, composer and improvisor, it is my goal to help students progress in each of these areas.
Inductee, PI Kappa Lamda, May 2017.
Gunther Schuller Medal, 2016.
Speaker, New England Conservatory Commencement, 2016.