CapU's Engineering Department has three distinct micro-credentials for students looking to expand their horizons into STEM.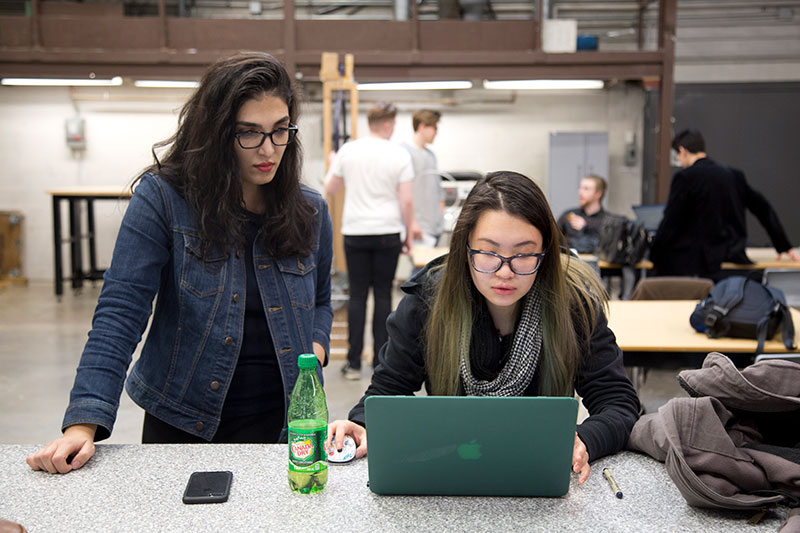 You don't need to be a STEM student to add breadth and depth to your education with three one-credit microcredentials offered by the CapU Engineering Department.
StrongerBC Future Skills Grant
If you are 19 or older, regardless of financial need, you may be eligible for a StrongerBC Future Skills Grant. The grant covers up to $3,500 per person for short-term skills training, including the engineering microcredentials at CapU.
Add vital STEM skills
These three courses are also a great solution for working professionals looking to add in-demand skills in computer-aided design, 3D printing and engineering project management.
Check out your options below.
APSC 111 - Computer-Aided Design - SOLIDWORKS
In APSC 111, you'll learn how to draw digitally by using SOLIDWORKS, one of the most popular Computer-Aided Design (CAD) programs.
With help from your instructors, you'll develop product design skills, make 3D models for manufacturing processes, including injection molds, use CAD models for analyses or simulations to verify functionalities or optimization, and produce print-ready STL files for 3D printing and rapid prototyping. Common jobs available in the market are CAD designers and draftspersons.
APSC 112 - Rapid Prototyping Technology
Become more familiar with 3D printing technology in APSC 112.
You'll gain skills in rapid prototyping technology, the fundamentals of 3D printing and gain expertise in several technologies, including milling machines, casting, laser cutting, electronic circuit board layout and other prototyping techniques.
You'll also conduct additional research on one of these new technologies and produce an oral presentation about its benefits and potential drawbacks.
APSC 113 - Engineering Management for Rapid Prototyping Technology
Sharpen your skills in engineering project management in APSC 113.
In this course, you'll research an engineering design problem, prepare your management solution and carry out analysis to see if it works.
You'll learn about elements of project management, including new technology and tools, teamwork, project scheduling and work breakdowns, cost control, risk management, intellectual property and stakeholder management and more.
At the end of the class, you'll present an oral report explaining your data and conclusions.
How are the courses taught?
Each of these courses are taught concurrently on Monday evenings. You can take one, two or all three to receive the maximum of three credits.
You can apply the credits you receive to elective requirements in your program.
Interested? Get in touch!
The microcredentials start in the Fall 2023 term, so if you're interested in gaining value-added, hands-on skills, contact sciences@capilanou.ca and we will assist you in registering for the courses.