Sense and Sensibility
A new adaptation by Michelle Deines of the Jane Austen classic novel.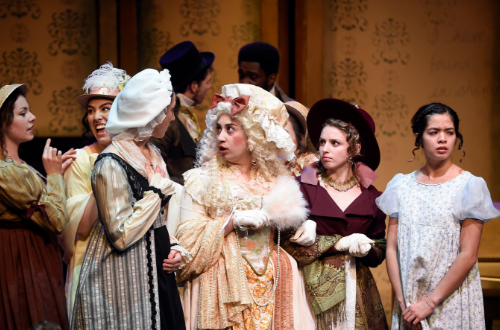 November 15-17 & 21-24, 2018 @ 8 PM | November 18 & 24, 2018 @ 2 PM
"Marianne was silent; it was impossible for her to say what she did not feel; and upon Elinor, therefore, the whole task of telling lies when politeness required it, always fell."
In this new adaptation of Jane Austen's beloved novel, two very different sisters—Marianne, free-spirited and romantic, and Elinor, sensible and reserved—find themselves thrown into an unkind world when their father dies. Suddenly poor and made homeless by the rules of inheritance, Marianne and Elinor must leave their family estate with their mother and younger sister. They are not in their new home long before Marianne falls in love with a man who appears to be a kindred spirit, but may be harbouring secrets of his own. Meanwhile, Elinor suffers her own heartbreak but conceals her true feelings, even from Marianne. In a world where rigid social conventions clash with impulses of the heart, Marianne and Elinor must navigate gossip and heartbreak before they can reconcile with each other and find happiness. Romantic, witty and heartfelt, Sense & Sensibility is a sparkling comedy sure to delight audiences everywhere.
A CapU Theatre Production