A Tribute to Africa with the CapU Jazz Ensembles and Faculty Guests
Artist-in-residence Dr. Kofi Gbolonyo leads CapU's Jazz Ensembles and faculty guests in this exploration of African jazz roots.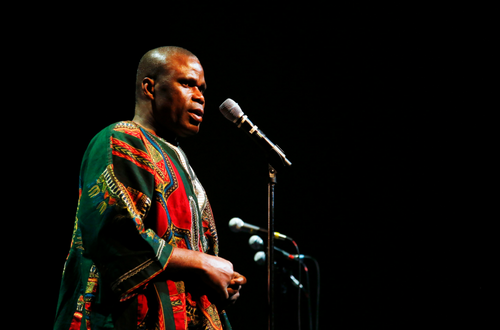 Music Direction: Brad Turner ("A" Band)
Kofi Gbolonyo (drums, vocals, dance) | Dennis Esson (trombone) | Jared Burrows (guitar, arrangements) | Steve Kaldestad (saxophone) | Brad Turner (trumpet, piano) | Dave Robbins (drums)
Our ever-popular annual tribute concert will travel far this year to the rich world of African music and its jazz roots. Capilano University is blessed this year to have Dr. Kofi Gbolonyo (percussion and vocals) as artist-in-residence for the entire academic year. Dr. Gbolonyo completed his Ph.D. in Ethnomusicology at the University of Pittsburgh and specializes in West African traditional music and dance. This tribute to Africa will feature new works created by our faculty in collaboration with Dr. Gbolonyo, as well as traditional music from Ghana. Feel free to bring your dancing shoes!