LPN, BA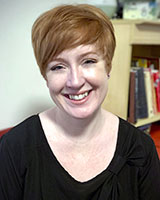 Instructor, Health Care Assistant Prog.
School of Allied Health
Health Care Assistant Program
Faculty of Education
Health & Human Development

604.986.1911 ext. 7373
Cedar Building, room CE375
nadjaneubauer@capilanou.ca
Education
BA Candidate, Capilano University.
LPN, Okanagan University College, 2005.
"I strive to inspire curiousity, critical thinking and above all a passion for care-giving. My students and I co-create learning environments that are inclusive, respectful, dynamic and engaging."
Bio
Nadja Matheson (LPN, Okanagan University College, 2015) is an accomplished nurse educator with a passion for gerontology, dementia care and research, and inclusive learning.
After graduating with distinction from Okanagan University College in 2005, Matheson spent many years nursing on the North Shore and in the Sea to Sky Corridor, where she lives. She joined the Capilano University Health Care Assistant program in 2011, and was recognized with an Exceptional Service Award for teaching in 2014.
She served as the program coordinator in 2018-19 and remains an active volunteer and member of several university committees. She is particularly proud of the work that she has done to promote the adoption of the Universal Design for Learning principles at Capilano University, and in the wider health care education community.
Matheson serves on the BC Articulation Committee and is a B.C. representative to the Canadian Association of Continuing Care Educators. She works closely with the B.C. Community Health Worker and Care Aide Registry and the Nursing Community Assessment Service to promote standards of education for Health Care Assistants in B.C. Passionate about lifelong learning, she continues to further her education.
As a practicing nurse for many years, specializing in gerontology, I have a deep respect for the vital role that Health Care Assistants play in our system and a direct understanding of the rising need for qualified care providers. I believe strongly in the role of HCA as an advocate and try to infuse a sense of that into every class I teach.
I am also fascinated by the brain, and dementia, and am passionate about providing better care to people with dementia, while we continue to research its causes and search for treatments, and ultimately a cure.
2017: Surfing the Grey Tsunami: Living and Helping With Dementia. Capilano Universe, North Vancouver Public Library, May 10.