BA, Dip.Dsg.+Ill., AFCA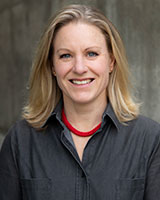 Instructor, IDEA School of Design
IDEA School of Design

604.986.1911 ext. 7226
Arbutus Building, room AR206
dwalker1@capilanou.ca
Education
Diploma in Design and Illustration (Distinction Designation), Capilano College, 2002.
BA, Simon Fraser University, 1998.
"Unless someone like you cares a whole awful lot, nothing is going to get better. It's not. – Dr. Seuss"
Bio
Dominique Walker (BA, Simon Fraser University, 1998) is a designer and fine artist based out of Vancouver. She doesn't own a bandana wearing dog called Talus, order skinny non-GMO soy lattes or eat loads of lentils, but does admit to occasionally wearing Birkenstocks… with socks.
After Walker earned a BA from SFU, it didn't take long to realize that although it made her a more interesting and well-rounded human, it trained her for approximately 0 jobs. After talking to industry to figure out where she could get the best graphic design training in the country, she enrolled in (then) Capilano College's Applied Design and Illustration program.
She went on to work at leading creative agencies like Koo Creative, Cossette's Identica Branding and Design and Lightroom FX. Her client list has included a range of brands from major industry leaders like Walmart USA, McDonalds Canada and Playground to local non-profits like the West Coast Symphony.
Walker has now come full circle. She teaches part time in Capilano University's IDEA School of Design where she proudly helps the next generation of designers hone their branding skills. She also works as a fine artist, showing locally and nationally.