BPE, B.Ed., MMT, PhD, NMT, AVPT, MTA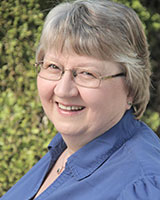 Instructor, Music Therapy
Faculty of Education
Health & Human Development
School of Allied Health - Music Therapy

604.986.1911 ext. 7399
Fir Building, room FR201a
ssummers@capilanou.ca
Education
Vocal Psychotherapist, 2015.
PhD, Leadership and Change, Antioch University, 2014.
Neurologic Music Therapy, 2013.
MMT, BC Open University, 1999.
Guided Imagery and Music (the Bonny method), Level I and II, 1989-90.
Diploma, Music Therapy, Capilano College, 1988.
Diploma, Special Education and Rehabilitation, University of Calgary, 1983.
B.Ed., University of Calgary, 1976.
BPE, University of Calgary, 1975.
"I have a collaborative, compassionate and empowering approach that encourages students to shine their unique light and learn through applied practice, sharing and experiential."
Bio
Susan Summers (PhD, Antioch University, 2014) has an extensive history of leadership, professional and community involvement including membership on five boards and collaboration with other therapist and arts organizations.
She is a certified music therapist (MTA) with over 30 years of clinical experience working with adults and older adults in community care, residential care and end of life care in hospice. She has 3 decades of supervisory experience with music therapy practicum students, pre-professional practicum students, colleagues and students from other professions.
Summers has presented at national and international conferences in Germany, Japan, the United States and throughout Canada. She is a singer, a pianist, a guitarist and an improviser. She has over 25 years of energy healing training and practice which she brings to her teaching. Summers has been actively involved musically in many choirs and bands, and currently leads a women's group, Sacred Web Singers.

Summers' research interests centre on music therapy and the use of voice and singing as a therapeutic influence for healing and for community building. She is involved in research teams with the University of British Columbia's departments of neurology, gerontology and developmental cognitive neuroscience studying the effectiveness of music therapy with older adults with dementia.

Summers has specialized training and expertise in vocal psychotherapy, neurological music therapy and speech rehabilitation, and leadership. She has a private vocal psychotherapy and vocal healing practice.

Summers is currently a board member of the Canadian Association of Music Therapists (CAMT), Music Therapy Association of British Columbia (MTABC), Arts Health Network Canada, Music Heals charity and the Federation of Associations of Counselling Therapists of BC (FACTBC). She is a strong and tireless advocate for music therapy's expansion of its services, scope and recognition through statutory government regulation, and with government agencies and officials, the public and other professionals.