Important Note
Please be advised of our 2023-2024 winter weather procedures. For push notifications, please download the CapUSafe App.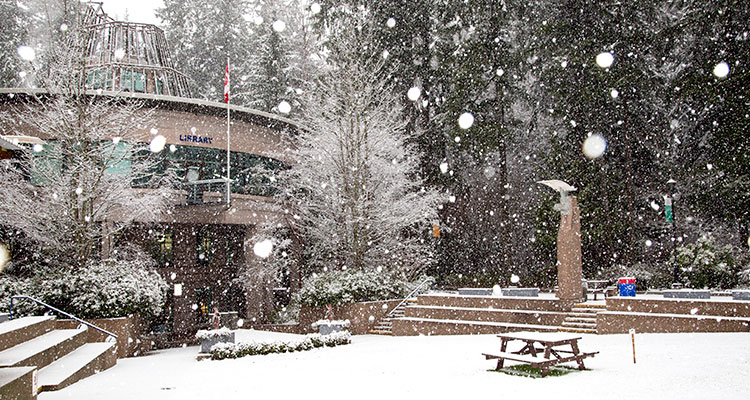 The Capilano University homepage is the official source of closure information. Unless a specific closure message appears on the homepage, the University is open during regularly scheduled hours. Refer to the University's Closure Policy for correct procedures during complete or partial University closures.
Service and instructional delivery
Please note, in the rare event that CapU's facilities close due to inclement weather, we will remain operational with classes and services delivered remotely online where possible.
Faculty teaching in-person classes are asked to advise their students of alternate plans for day(s) that are impacted by a campus closure. Unless otherwise communicated by one's supervisor, employees who had planned to attend work on location will, depending upon their roles and duties, be asked to work remotely. By maintaining academic and operational continuity in this way, we can reduce the disruption typically caused by inclement weather.
Communication and directions will be provided should a campus closure impact the winter examination schedule.
Planning your commute
As temperatures dip, there are important things to keep in mind. Here's how you can find information about University operations, classes, transportation and getting around campus.
Visit our homepage at capilanou.ca for up-to-date information about campus closures.
We will post morning closure announcements and updates as close to 6:30 a.m. as possible on the day of closure.
Check out Capilano University's Twitter feed for updates.
Check for social media updates from TransLink, DriveBC and local radio and television broadcasters:
Stay safe on the roads
Before heading out on the roads, check with TransLink for transit delays or DriveBC for any traffic incidents that could affect your commute. Plan your route using TransLink's Trip Planner for current schedules and bus routes. You can sign up to receive transit alerts from Translink.
If you are unsure of driving conditions, use alternative transportation.
If you decide to drive
Drive slowly and with added caution.
Plan for a longer than normal commute with possible major delays.
Pack extra clothes, safety equipment and other emergency supplies.
Ensure your cellular phone or other wireless device is fully charged at all times.