As one of your first CapU experiences, the International Student Orientation will be fun and meaningful!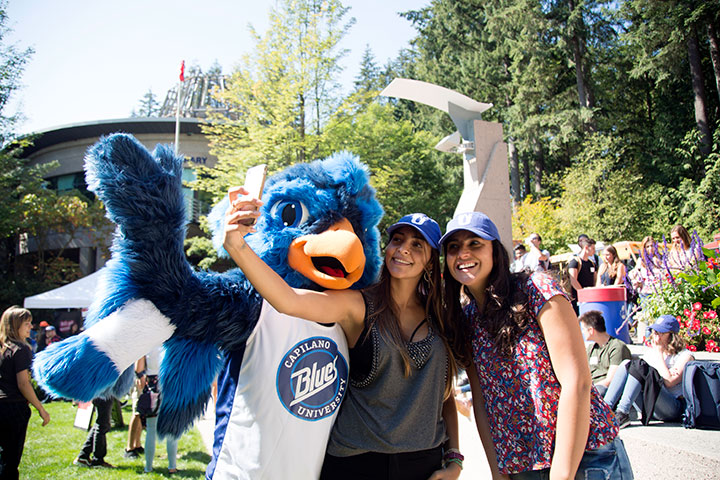 The International Student Orientation is the first in a series of exciting and informative events where you will see the CapU spirit come alive!
This is your opportunity to meet your fellow students and learn about your new University all while having fun and making your first CapU memories.
Fall 2022 International Student Orientation
Friday, September 2, 2022 (online/virtual)
8:30
—

10:30 a.m. (PST)

The International Student Orientation is mandatory for all new international students to attend.

This virtual session is tailored for you as a new international student and will cover everything from effective transition tools and academic integrity, to student basics, study permits, and health insurance.

If you are uncertain about your travel plans or study permit status, we still recommend you register for this virtual session so you can be prepared to begin your experience as a CapU student in the event that your study permit is approved in time to start the semester with us.
Campus-wide fall orientation
The International Student Orientation is just one part of the larger campus wide Orientation events that have been planned for you this fall semester.
You can expect many fun opportunities to explore your new campus, make lots of new friends, and familiarize yourself with everything CapU has to offer!
Below is a schedule of main events, with more fun games, sessions and activities being added soon — so stay tuned!
Tuesday, Aug. 30 | 10 a.m. — 12 p.m.
Virtual Orientation Kick-Off — mandatory for all new students
Wednesday, Aug. 31 — Thursday, Sept. 1
Orientation breakout sessions — optional for all students
Wednesday, Aug. 31
Program orientation sessions — Not all programs will have a program specific orientation. You will be contacted directly by your program is one is scheduled.
Friday, Sept. 2 | 8:30 — 10:30 a.m.
International Student Orientation — mandatory for all new international students
Tuesday, Sept. 6 | 11:30 a.m. — 3 p.m.
CapU Street Party & President's BBQ — entire CapU community welcome
Wednesday, Sept. 7 — Friday, Sept. 9
CapU Social Week — optional for all students
For specific event details, visit our Orientation page.
Registration links and further details for the International Student Orientation and other campus-wide Orientation events will also be sent to your myCapU email in the weeks prior to the start of the semester.
Other reminders
Welcome Guide for International Students
Check out your Welcome Guide for New International Students on eLearn! It has everything you need to know about starting at CapU and will be an important resource for you to reference at different times throughout your studies.
To access the Welcome Guide, log in to eLearn and click on the Welcome Guide for New International Students course in your dashboard. Or download the CapU eLearn App for iPhone or Android phones.
Sign up for a student mentor
Our student mentors are part of the International Leadership & Mentorship Program (ILMP) and are specifically trained to help you navigate your first term at CapU.
Our mentors are in their second year or more and are eager to share helpful tips and tricks for being a successful student, show you how to access student services, and invite you to fun events so you can start meeting new people and making new friends.
Spring 2023 New International Student Orientation
Registration will open late 2022. Keep an eye on your myCapU email for updates.