BMT, MTA, NMT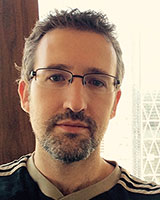 Instructor, Music Therapy
School of Allied Health - Music Therapy
Faculty of Education
Health & Human Development

604.984.4911 ext. 4911
Fir Building, room FR101
msochor@capilanou.ca
Education
NMT, Academy of Neurologic Music Therapy, University of Toronto, 2018.
Music Therapist Accredited (MTA), Canadian Association of Music Therapists, 2008.
BMT, Music Therapy Program, Capilano University, 2008.
Diploma, Performing Arts, Douglas College, 2003.
Bio
Michael Sochor (NMT, University of Toronto, 2018) is an Accredited Music Therapist with Neurologic Music Therapy training. He has been practising as a music therapist since 2007 and has worked in a complex care unit for older adults at Hawthorne Seniors Care Community since 2009, a not for profit organization.
He currently teaches private guitar instruction to music therapy students at Capilano University and also instructs at Douglas College as part of the Foundations for Music Therapy Studies program.
Sochor has also volunteered as acting social media chair for the Music Therapy Association of British Columbia. His approach to educating private students is both a practical and applied approach to the instrument. His approach is informed by years of performing, working as a music therapist and songwriting.
As a private guitar instructor,I have found myself pushing my own boundaries with the instrument in order to better serve the students. I wanted to explore what could be done with the instrument in a therapy context and explore techniques I have not used in practice while sharing the techniques that I have acquired over my years as a music therapist.

I love teaching. Watching how students develop their own guitar style as they build improve skills and technique is a beautiful thing to see. It can be challenging as the student's concentration is the instrument they feel they need the most work in, so students who are coming into the program do so with a wide range in skill level, from basics to advanced abilities. It's very exciting!
Excellence in Quality - Coping With End Of Life Award, 5th Annual Quality Forum, 2016. Received from the BC Patient Safety & Quality Council as part of the Comfort Care Committee at Hawthorne Care Centre.