Want to be part of the next generation of creative professionals? Develop your skill in branding, illustration or interaction design in the 4-year Bachelor of Design at CapU.
In the Bachelor of Design in Visual Communication degree program, we make it our business to keep up with industry trends and innovations, including advances in technology and tools.
You'll be prepared for a career doing what you love, whether that's illustration, branding, graphic design, visual communication design, art direction, interactive design, UI (user interface), UX (user experience), editorial design, publishing, digital media, concept art, environmental design and more.
The program is rigorous, offering many all-day classes and strong levels of peer support while being industry-focused and responsive to cultural change and technology advances. You'll engage with instructors who are professionals with years of experience and broad networks across the industry.
Tuition fees include industry quality tools such as personal laptops with all necessary software, cameras, and substantial art materials for classes and workshops. We also fund student memberships to professional associations in Canada, local events and guest speakers.
Prior to graduation, you'll take part in an eight-week industry practicum placement to help you transition into your new career.
You'll also showcase your portfolio at our annual Grad Show, which is attended by Vancouver's top agencies and art directors.
Bring your talent, passion and goals to a program with a reputation for industry-ready graduates.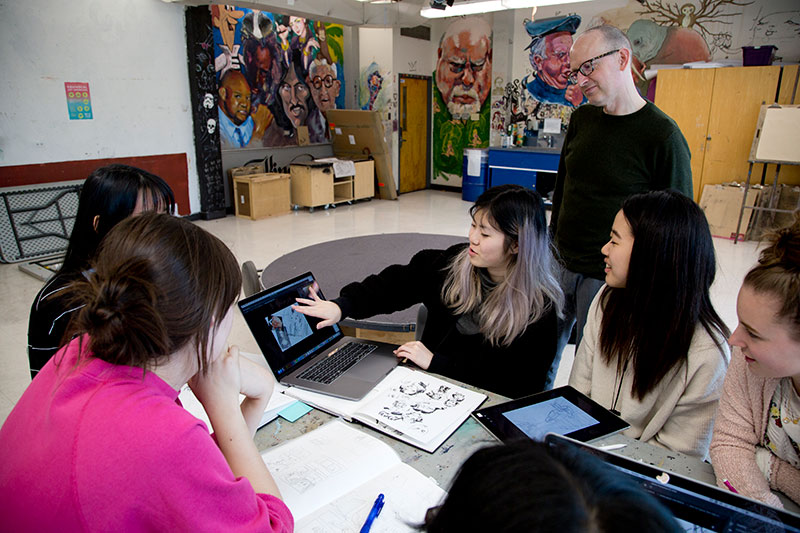 Learn from top artists and designers
During your intensive four-year design training, your instructors will be by your side, sharing their knowledge and providing support with your creative projects.
Bachelor of Design in Visual Communication