As one of your first CapU experiences, New International Student Orientation will be fun and meaningful!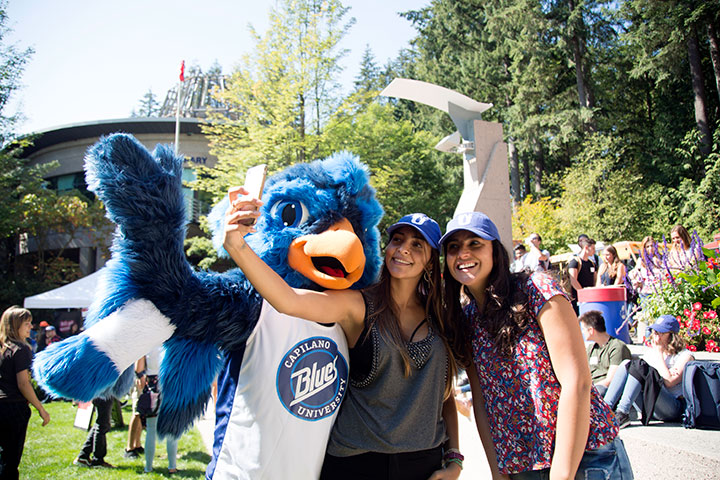 The Summer 2022 New International Student Orientation will be a combination of virtual and in-person events where you will see the CapU spirit come alive!
This is your opportunity to meet your fellow students and learn about your new University all while having fun and making your first CapU memories.
Summer 2022 New International Student Orientation
Wednesday, May 4, 2022
The virtual international student orientation is mandatory for all new international students. You will also receive the registration link to your CapU email in the weeks prior to orientation.
This session is tailored for you as a new international students and will cover everything from effective learning strategies and academic integrity, to IRCC updates, study permits, and health insurance.
Join this session and be the first to learn how you can win amazing prizes during CapU's Epic Scavenger Hunt (see below for more contest details)!
If you are uncertain about your travel plans or study permit status, we still recommend you register for this virtual session so you can prepare to begin your experience as a CapU student.
Summer 2022 International Student Orientation in-person events
Campus Tours & New Student Party Zone
May 5 & 6 | CIE Office (LB 127)
Drop-in between 10 a.m. - 2 p.m. PT
Familiarize yourself with our beautiful campus and receive hints about where scavenger hunt clues will be hidden. Tours depart every 45mins and end in the new student party zone!
Meet at the CIE office in the Library Building – LB127. No registration required.
Welcome Bag Pick Up
May 5 & 6 | CIE Office (LB 127)
Pick-up between 10 a.m. - 2 p.m. PT
Come grab your CapU Welcome Bag with exclusive orientation swag just for you!
No registration required. Just bring a piece of ID to the CIE office in the Library Building - LB 127.
International Student Mixer
Monday, May 16, 2022 | 5 - 6 p.m. | LB 321
Join us in-person for an evening of music, free food, fun activities, prizes, and a chance to meet with other CapU international students, including our mentors from the International Leadership and Mentorship Program. All international students are welcome!
Summer 2022 Epic Scavenger Hunt
May 9 – 13 | CapU North Vancouver Campus
Calling all CapU Students! We challenge you to join one of the most exciting scavenger hunt contests of all time! Win epic prizes such as Apple Watch, Air Pods, Amazon Tablet, Smart Speakers, gift cards and more!
Contest details
Transitional webinars
May 9 — 19 | Optional Virtual Sessions
Other reminders
Welcome Guide for International Students
Check out your Welcome Guide for New International Students on eLearn! It has everything you need to know (and then some) about starting at CapU and will be an important resource for you to reference at different times throughout your studies.
To access the Welcome Guide, log in to eLearn and click on the Welcome Guide for New International Students course in your dashboard.
Sign up for a student mentor
Our student mentors are part of the International Leadership & Mentorship Program (ILMP) and are specifically trained to help you navigate your first term at CapU.
Our mentors are in their second year or more and are eager to share helpful tips and tricks for being a successful student, show you how to access student services, and invite you to fun events so you can start meeting new people and making new friends.